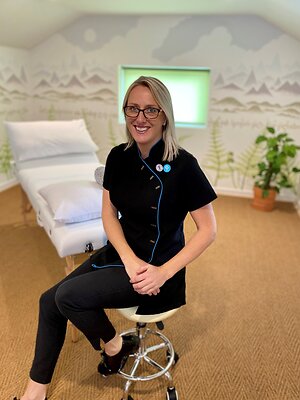 Reflexology in Tiverton and the Mid Devon area
Hello and welcome to 'Mid Devon Reflexology - I'm Kerri, a fully qualified and insured Reflexologist offering a little sanctuary of calm and relaxation at 'The Durin Room' Liznojan Books, 25 Gold Street, Tiverton - a beautiful and unique therapy room.

I'm passionate about reflexology and how it can make a positive difference to the way we feel physically, mentally and emotionally, whatever our level of health and well-being. As reflexology is the only therapy I practise, this specialism enables me to be fully focussed on the best techniques and treatment plan for my clients. It's hugely rewarding to see the benefits that reflexology brings to the people I treat at my Tiverton clinic. You can see what some of them say about me on my Facebook page.

Back in 2018 I trained with the highly respected Derek Lowe at the Devon Academy of Complementary Therapy in Exeter, where I gained the ITEC Level 3 Diploma in Reflexology which required me to do over 100 treatments before even qualifying! I also hold a separate ITEC Level 3 diploma in Anatomy, Physiology and Pathology.

In June 2022 I qualified in the 'Bergman Zone Method of Advanced Facial Reflexology'. I was thrilled to be trained by Ziggy Bergman herself (Facial Reflexologist to the stars) through the London School of Reflexology - this course is the ONLY facial reflexology training accredited by the Association of Reflexologists, so it is an absolute joy to offer this amazing treatment to my clients.

By working specific reflex points on the feet or face it can help to unblock any areas of congestion we might have in the body causing our systems to become sluggish, help rebalance our body's chemistry and achieve a sense of inner calm, improved well-being and a greater resilience to what life throws at us on a daily basis
Just recently, I have received more training through the London School of Reflexology - this time, 'Indian Head Massage' which compliments reflexology beautifully. Indian Head Massage as the name suggests has its origins in India and dates back to 600BC. The treatment I offer is applied with the client being fully clothed and lying down on the couch where I work over the face, head, neck, shoulders and arms. A variety of massage techniques will be used to release tension from knotted muscles and stimulate specific energy points. It can relieve many symptoms from headaches, eye strain and insomnia to tinnitus, tension and more.
I am a member of the Association of Reflexologists (AOR) which means that I hold a nationally recognised reflexology qualification and am a fully insured Reflexologist. To stay registered with the AOR I need to demonstrate that I adhere to their code of practice and am committed to my continuing personal development through e.g. training and keeping up to date with industry developments. I love to learn and am always completing further studies and increasing my knowledge.

Prior to qualifying as a reflexologist, I worked in education as a Higher-Level Teaching Assistant. I'm told that I can naturally connect and quickly build rapport with children. I miss this rewarding work, so I am always so happy to see younger clients in my 'after school clinic'. I've also worked in HR, Change Management & Retail Management so I have a full understanding of life in the fast lane and the pressures and demands that come with a stressful job.

A bit about me - I'm 47, peri-menopausal and obsessed with all thing's chocolate. I live in the countryside in an old pub (that has been restored and renovated), with my lovely husband, daughter, stepsons and our crazy dog - so needless to say life is busy and fun!
Simple pleasures make me happiest - time with family, walks, picnics on the beach, coffee with a friend, mini-breaks, pottering in my garden - to name but a few.

Everyone is welcome at Mid Devon Reflexology - it can benefit absolutely everybody in some way. My clients visit me in my Tiverton therapy room from Exeter, Taunton, Barnstaple and sometimes further afield! Many seek me out for support with a health condition or are in need of some relaxation (and sometimes both!!) Reflexology can aid sleep, release tension, improve mood, promote wellbeing and relaxation generally and SO much more. Please contact me if you would like to discuss how Reflexology may be able to help you.



''My aim is to bring relaxation to those who are stressed, luxury to those in need of indulgence, support to those suffering with illness and balance back to the body through professional reflexology'' Kerri Elliott, MAR Reflexologist